My cartooning roots
Make no mistake about it ... every cartoonist with a website has a bio section that features the evolution of their interest in cartooning; and that's usually a good thing as most of them are quite entertaining. As a lower-tier peer, I can't say for certain that anyone will find my story equally enthralling but I have to admit that it was a lot of fun recapping the milestones in my lifelong pursuit.

Earliest memory
My first recollection involving art is that of me watching my Dad, Peter J. Rozanski, sketching a portrait of my Grandfather - his Father-in-law. It was probably 1959, and I was 4 at the time. Ten years earlier he had taken one lesson in an art through the International Correspondence Schools. He never mentioned it while he was alive but I found the home study packet in his papers after he died.

My guess is that he had to stop because he later enlisted as a merchant marine, sailing on the Great Lakes.
During the 1950s he decided to become a land-lubber and moved back home to his hometown of Mosinee, Wisconsin. He found a job at a local factory, got married and had cute little blond-haired boy ...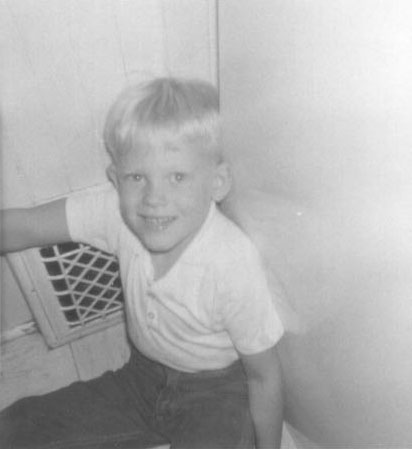 Dad still loved drawing and constantly sketched and doodled on envelopes and the blank areas of the newspaper; and as long as I can remember growing up there were always "used" art instruction books around the house.

I recall lying on the linoleum floor, flipping pages, staring in awe at all of the different illustrations. There was so much to see and copy … cartoons, commercial art, the human figure, painting, advertising, greeting cards, lettering, etc.
Famous Artists Course
In April of 1961 Dad submitted his entry for the Famous Artists talent test ...

Five months later, in September 1961, we moved to the Rogers Park neighborhood of Chicago. After my Mom and Dad both found factory jobs he finally paid his fee and enrolled in the full-fledged Famous Artists course. I was in first grade, and because we had just moved to the neighborhood, I didn't have a lot of friends yet, so I continued to peruse his old art books, which by now I knew inside and out.
Then on one glorious day, the BIG books arrived: the larger-than-life three-volume textbook set (red, yellow and blue) of the Famous Artists course.

They were absolutely amazing. Not only did I find them to be just as hypnotic as Superman comic books and Mad magazines, but I now had a ton of new material to copy.
Another key memory was when my Dad brought home his brand new wooden drawing table - which had an adjustable-angle drawing surface. I still have it in my basement as it later got plenty of use by both myself and my daughter.
in 1965 my Dad graduated from the Famous Artists course and received his diploma, which hangs on my studio wall to this day ...
My family moved back to Mosinee later that year and he took a job at the paper mill. But he also got a chance to put his studies to use and earn a few extra dollars on the side painting and lettering signs: commercial trucks, small billboards, yard signs, election posters, and anything else that a small business might need. Like most parents from that generation he worked hard. But he still found some time to fulfill a dream.
Seeing all this first hand is a treasured memory that will never be forgotten.
Check back for the next installment regarding my taking the plunge in the world of cartooning.
Home | Create | Submit | Organize | Roots | New | Sale
Copyright © 2016 Alan Rozanski - Wallmarkmedia All Rights Reserved. Unauthorized duplication, reproduction or cloning is strictly prohibited. But then, how the heck would I know if you're using one of my comics as wallpaper on your personal computer? Of course, if you do and you feel guilty about it you can always send me a check in the amount of your choice (minimum of 3 digits on the left side of the decimal point).