Submitting your comic strip to the newspaper syndicates
(Note: RejectedToons was folded into Wallmarkmedia on 20 April 2016)
While some of you who are just starting out might find this page useful, seasoned veterans who have already attempted a comic strip or two may find that these tips do not offer much in the way of additional insight. For example, those of us who have already submitted our work to the newspaper syndicates realize that the following does NOT illustrate the ideal way to negotiate with the editors ...
Obviously, not many comic strip artists attempt to conduct business in the manner of a 1930's gangster as portrayed by Edward G. Robinson, Humphrey Bogart or Jimmy Cagney. * By the same token, the editors at the newspaper syndicates never treat you as badly as this fellow ...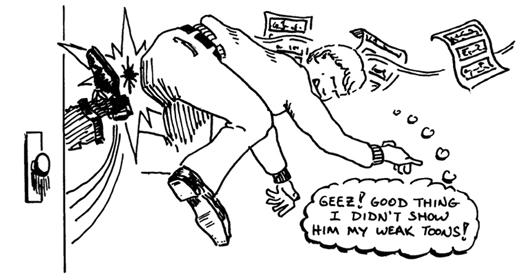 ... which is how one actually feels after receiving so many of those ubiquitous form letters that proclaim "your strip is not right" for them. Those of us who are also hockey players, hockey fans or just plain fans of the movie 'Slap Shot' will "feel shame", and eventually - but longer than "two minutes" - we will get "out of the box" and start drawing again.
Is there a protocol to follow that helps artists understand what the syndicates are looking for and how to submit your work? Yes, they are called "submission guidelines", and they can be downloaded from the various newspaper syndicate websites. While they may all seem similar in scope be sure to read each set of guidelines thoroughly and strive to follow each one accordingly.
I haven't submitted a new strip to any of the syndicates in over 15 years but I know that a lot has changed. Some of them have closed, merged or changed their names, and many of the editors that I previously corresponded with have moved on.
One thing, however, that hasn't changed is what the editors expect from you ... "your very best work".
From a creative standpoint, below are what I feel are the three most important tips ...
Strive for a consistent and high-quality drawing style. To quote a good friend, "draw often, draw everyday, even Sundays"

Draw the strip or panel so it is interesting and easy for the reader to follow. Experiment with composition, perspective and various effects.

Writing ... wring ... writing! The concept and gags are the most influential factors in selling a strip.
* Perhaps 95% of the reading audience will have no clue who any of these actors are, but I'm leaving them in for the enjoyment of my equally-aged peers.
Home | Create | Submit | Organize | Roots | New | Sale
Copyright © 2016 Alan Rozanski - Wallmarkmedia All Rights Reserved. Unauthorized duplication, reproduction or cloning is strictly prohibited. But then, how the heck would I know if you're using one of my comics as wallpaper on your personal computer? Of course, if you do and you feel guilty about it you can always send me a check in the amount of your choice (minimum of 3 digits on the left side of the decimal point).